HOMECOMING 2019
August 22-25, 2019

Here is the preliminary schedule of events. Hope to see you in Plymouth!!!



We are offering a $5 discount for pre-paid early registrations. After you sumbit your registration, print the page and mail it with a check or money order for the amount listed minus $5 before August 1st.



Schedule

Thursday
2:00pm-6:00pm
2:00pm-6:00pm
3:00pm-8:00pm
2:00pm-6:00pm

Registration
Ken Pepke's World Class Hospitality Room
Corvair Museum & Firehouse Museum, and Cruise Night in Ypsilanti
Swap Meet Setup & Car Care Clinic

Friday
8:00am-6:00pm
10:00am-1:00pm
As Posted
Noon-5:00pm
5:30pm-7:00pm
7:00pm-8:00pm
9:00pm
All Day
Registration
GM Heritage Center Tour ($10 extra)
Women's Activities
Ken Pepke's World Class Hospitality Room
Cook out/Picnic
Valve Cover Races (near Front Entrance)
Drive-in movie (Circumstances Permitting)
Swap Meet, Car Care Clinic, & 50/50 Drawings

Saturday
9:00am-2:00pm
9:00am-1:00pm
11:00am-5:30pm
As Posted
1:00pm-4:00pm
4:30pm-8:30pm
6:00pm
7:30pm
7:30pm
8:30pm
All Day

Registration
People's Choice Car Show, Model & Toy Exhibit
Ken Pepke's World Class Hospitality Room
Kids & Womens's Activities
Road Tour
Live Auction and 60's-70's Vintage Costume Dress Up
Pizza Party
Winner Announced for FREE room this weekend
Calendar Winners "Drive Thru" Show
Wine and Cheese Tasting Event ($10 per person) Hotel Guests Only
Swap Meet, Car Care Clinic, and Tech Session

Sunday
Breakfast, Swap Meet Leftovers, then Clean & Pack Up
Crusing Scenic Hines Drive Park from Plymouth to Dearborn and back
(Classic Cars & Trucks only, Rolling Cruise)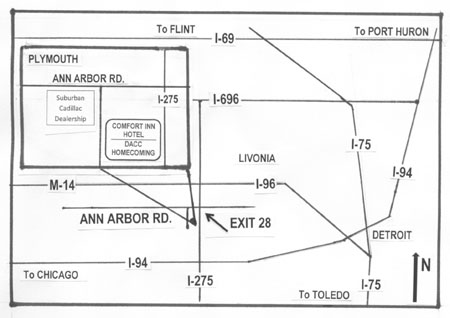 For additional information, contact:
Pete Cimbala (810)621-9866 or (810)241-8593
Click here to Email us for more Homecoming Info
Hotel Location:

Comfort Inn Clocktower
40445 Ann Arbor Road
Plymouth, MI 48170
(734)455-8100

Special room rate of $89.00 plus tax per night. Be sure to mention "Code FJ25K1" or "Corvair Event".

Our alternate motel is the Red Roof Inn (just over I-275 on the left) 39700 Ann Arbor Rd. Plymouth, MI 48170 (734)459-3300 ask for the special Corvair room rate.
Email Pre-Registration Form
Print and mail with payment to:
DACC c/o Bob Wittmann
2830 Treyburn Ln
West Bloomfield, MI 48234